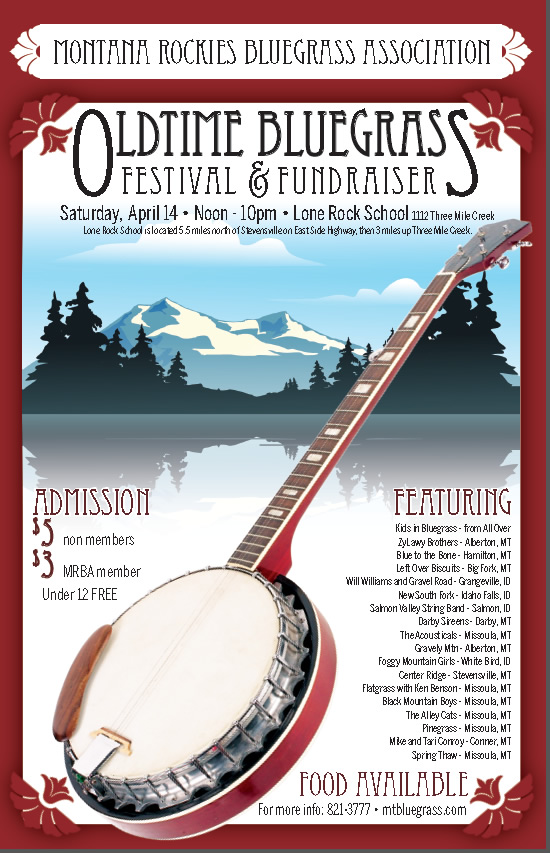 Address:  Lone Rock School – 1112 Three Mile Creek
Directions:  5.5 miles north of Stevensville on East Side Highway, then 3 miles up Three Mile Creek
Time:  noon-10:35pm
Cost:  $5/$3 MRBA Members
Decription:  A family-friendly event with lots of pickin' and grinnin'.  Good home cooked food.
Bring your instrument and join the parking lot and classroom jams.
Band Line-up for our Spring Festival
12:00-12:30 Kids in Bluegrass
12:35-1:05  Zylawy Brothers
1:10-1:40 Foggy Mtn Girls
1:45-2:15 Center Ridge /Ben Essary
2:20-2:50 Leftover Biscuits
2:55-3:25 Darby Sireens
3:30-4:00 Flat Grass /Ken Benson
4:05-4:35 Salmon Valley Stringband
4:40-5:10 Will Williams & Gravel RD
5:15-5:45 The Accousticals
5:50-6:20 The Alley Cats
6:25-6:55 Spring Thaw
7:00-7:30 New Mike & Tari Conroy Band
7:35-8:05 New South Fork
8:10-8:40 Blue To The Bone
8:45-9:15 Black Mountain Boys
9:20-9:50 Pinegrass
9:55-10:25 Gravely Mtn
RSVP on Facebook Event
2012 MRBA Spring Festival Poster
Lone Rock School is located 5.5 miles north of Stevensville on East Side Highway, then 3 miles up Three Mile Creek.