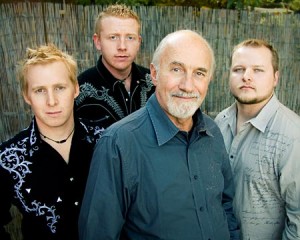 Sunday, December 5, 2010
2:30 p.m. (show) 2:00 p.m. (doors open)
Pilgrim Church, 2118 South Third Avenue, Bozeman
TICKETS : (only at door) $15 general / $13 BFS & seniors / $5 children 5-12
CONTACT : Rik James (406) 586-4123Â  (406) 586-4123 D28Rik@msn.com
Each winter, Chicago's Special Consensus, led by banjo veteran Greg Cahill, has braved the elements to come to Montana to perform. And this year, Bozeman happens to be one of their stops, this time for an afternoon show.
This road tested, award winning group, also known as the "Special C" band, is a traditional hard-driving bluegrass quartet. And their leader, Greg Cahill, has mentored dozens of musicians along the way. This year the band celebrates its 35th anniversary, and it has released its 15th album, succinctly titled "35," on Compass Records. The new album features six songs from previous out-of-print recordings, and six songs newly recorded with the most recent band lineup of Greg Cahill on banjo and vocals, Rick Faris on mandolin and vocals, David Thomas on bass and vocals, and Ryan Roberts on guitar and vocals. Songs from all of the band recordings since 1998 have appeared on the National Bluegrass Survey chart in Bluegrass Unlimited and on the charts in Bluegrass Now.
The current Special Consensus is regarded as one of the best bands Greg has ever put together. Rick Faris plays mandolin and sings lead, baritone, tenor and high baritone vocals. David Thomas plays bass and sings lead, baritone, tenor and high baritone vocals. Ryan Roberts plays guitar and sings lead, baritone, bass and tenor vocals. Ryan, David, and Rick are tasteful players and strong singers who not only pull off any of the standard bluegrass repertoire, but are also writing their own songs.
Chicago born and bred, Greg Cahill has been playing bluegrass banjo since the early 1970s and formed The Special Consensus in 1975. He has composed many banjo instrumentals and released three albums featuring his unique style: Lone Star (1980) with guests Jethro Burns and Byron Berline, Blue Skies (1992) with fellow Chicagoan Don Stiernberg, and Night Skies (1998) with Don and guests Sam Bush, Glen Duncan and Tom Boyd. In addition to conducting workshops at festivals, teaching at the Old Town School of Folk Music in Chicago and teaching banjo at music camps, Greg has released four instructional videos/DVDs. He served as Vice Chairperson of the Nashville-based International Bluegrass Music Association (IBMA) Board of Directors for several years and was elected President/Board Chair of that organization in 2006.
More information at their web site: http://www.specialc.com
For more information about concerts in general,
call Rik James at (406) 586-4123 (406) 586-4123
Put on by Bozeman Folklore Society