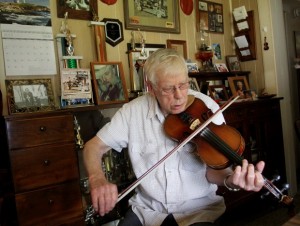 Jim Widner's daughters are having a 90th birthday party for Jim at the Darby clubhouse on Sat -October 11th from 2pm to 6pm. They will have a sign up sheet there for musicians to take turns playing on the microphone…Potluck at 2pm… Come join in the fun…
Jim Widner has lived in the same apartment in Darby for nearly a half century. He settled there after the band, the Snake River Outlaws, split and went their seperate ways. He never stopped fiddling. Widner was crowned national champion at old fiddle contests on a two occassions.  In a small apartment on Darby's main street, there lives a living legend.
Sixty years ago, Widner was a member of a band called the Snake River Outlaws. In the 1950s, the four Idaho musicians made the airwaves sing from a small stage inside the Sunshine Bar at the corner of Missoula's Woody and Alder streets.  "It was Montana's skid row back then," Widner said.  Gathered close to the microphone emblazoned with the letters KXLL, the young men played a popular style of old-time country music that ended up aired on radios in a half-dozen Western states.
After band members married and went their own way, Widner started entering fiddle contests on his weekends away from work at the Darby sawmills. He was crowned national old-time fiddle champion on a number of occasions and folks from everywhere took notice.
"Anywhere we go, when people learn where we live, they ask us if we know that fiddler from Darby," said Mike Conroy, the organizer of Hardtimes Bluegrass Festival, "He's the only living legend that I know."
Jimmy Widner's apartment is filled with memories of times when people stood and clapped as he made his fiddle sing.  "A fiddle can do just about anything if you know how to make it do it," Widner said, as he leaned back in his kitchen chair.  Just behind him is a wall filled with a packed trophy case, photographs and other mementoes of his musical career.  "I've given back quite a few of my trophies," Widner said "I just didn't have room for them here."
Born into a musical family – his dad was a fiddler who worked on the railroad – Widner didn't really take to the fiddle in his younger years.  But that early introduction to music came in handy after he enlisted in the U.S. Army during World War II. Widner spent a good deal of time on troop transport ships moving back and forth between the Pacific and European theaters. He found that some of those ships had a collection of musical instruments that soldiers could check out for a day.
"I learned to play by ear," he said. "I didn't really have any particular teacher. It is a gift that the Lord gives you for music. We played whenever we could just for our own enjoyment."  When Widner came home from the war, he managed to get his hands on a better fiddle and began to practice.  Eventually he teamed up with Vern Wilburn and began playing at bars for $3 a night. The pair met an itinerant singer who went by the name of Wild Bill Lloyd, the Snake River Outlaw.  The three sang together until they found Lloyd dead in the car that he lived in by the railroad depot.
About that time, there was a young kid named Orval Fochtman hanging around the bar and singing to tunes on the jukebox. They enlisted him and Wilburn's brother to become the Snake River Outlaws.  The four were tired of Weiser and so they piled into a 1937 Chevy panel van that had been used as a doughnut wagon and headed north.  They ended up in Missoula and the Sunshine Bar.
"We had a monopoly on that town back then," Widner remembered. "It was really something to be inside the Sunshine Bar when we were playing. You could see winos brushing elbows with people in mink coats. You couldn't even get inside the bar on a Saturday night, it was so crowded."  Those who couldn't squeeze in the door would stand outside and dance to the music drifting out of the open windows of parked cars from the performance being broadcast on the radio.
With his earnings, Fochtman purchased a reel-to-reel tape recorder and recorded the group's live radio program. The Western Folklife Center eventually ended up with those tapes and had the music digitally recorded to produce a CD.  These days, Widner is done with contests and other huge events.  But he can sure still play. For folks with a good ear like Conroy, Widner hasn't missed a beat.  "There is absolutely no one that sounds like Jimmy Widner. I can be clear across the grounds at the finals and hear his fiddle and instantly know it's Jim Widner.  Many people play music, but Jim just feels the music in his own special way," Conroy said.
"Sometimes some of those folks will stop by my place and we'll talk about those days," he said. "There are getting to be fewer and fewer of them too. It's been quite an honor to be part of all this.  It's just disappearing fast," Widner said. "That's what happens when you get older. There's just not that many around who remember those good old times."