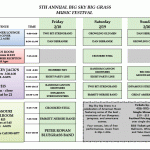 Peter Rowan Bluegrass Band ( Missouri Ballroom Friday 2/18 9:15pm w/ Crooked Still and Emmitt?Nershi Band $25) Grammy?award winner and five?time Grammy nominee, Peter Rowan is a bluegrass singer?songwriter with a career spanning over five decades. From his early years playing under the tutelage of bluegrass patriarch Bill Monroe, and following his stint in Old & In the Way with Jerry Garcia and subsequent breakout as both a solo performer and bandleader, Rowan has built a devoted, international fan base through his continuous stream of original recordings, collaborative projects, and constant touring. On the road, Rowan performs internationally as a solo singer?songwriter and the Peter Rowan Bluegrass Band, a quartet featuring Jody Stecher, Keith Little, and Paul Knight.
Emmitt –Nershi Band (Missouri Ballroom Friday 7:30pm $25 Whiskey Jack Saturday 11pm $15) With years of collective experience under their belts, Drew Emmitt and Bill Nershi exemplify the forward? thinking modern bluegrass musician. As linchpins of two legendary jam?bands ?? Drew with Leftover Salmon, Bill with the String Cheese Incident??both men have done the stadium?filling, high?profile rock 'n' roll thing to perfection. Along the way, however, they've honed their songwriting and playing chops and studied the bluegrass, rock and jazz masters they admire. Above all, Drew and Bill have shared a commitment to keeping music human?scaled and hones
Infamous Stringdusters (Whisky Jack Friday 11pm $15– Whiskey Jack Sunday 9:30pm ) The Infamous Stringdusters are the new vanguard of acoustic music. Well crafted songs, vivid arrangements, instrumental virtuosity, stunning improvisation, unique individuality and complete harmony… Bluegrass, Rock, Country, Blues, Folk, and Jazz, the "IS" is American Acoustic Music. ' Fork in the Road was named Album of the Year by the International Bluegrass Musicm Association. Its title named Song of the Year, and the band itself earned the honor of best emerging artist in a competitive field.
Crooked Still (Missouri Ballroom Friday 6:00pm, $25 Talus Room at the Summit Hotel, Saturday 7:15 pm $10) Crooked Still is now on the cusp of a new musical chapter. The quintet became five with the addition of fiddler Brittany Haas and Tristan Clarridge on cello and second fiddle. With Haas and Clarridge, the band has proven themselves to be even more adventurous, breathing their cosmic fire into old songs. O'Donovan says. "Brittney adds another female presence to the band; I can hear my voice in her fiddling. Tristan has a refined cello tone, with a powerful, restrained energy. They bring a fresh outlook to the arrangements that keep the music
exciting.
Great American Taxi ( Whiskey Jack Sunday 10:30 pm $15) Great American Taxi has been equated with roots rockers like the New Riders of the Purple Sage, Grateful Dead, Wilcox, Uncle Tupelo, The Byrds, and LittleFeat. Herman finds the comparisons flattering. "We're definitely connected to all the acts in the country/rock spectrum, as well as the spirit of Gram Parsons and Woody Guthrie," he says. "We want to address the issues appropriate to our times, while making music that gets people up and moving." They've made their reputation as an exciting live band, willing to invite the audience on stage for impromptu jams and sing?alongs. "When strangers join in to sing and play, you don't know what's going to happen," Herman grins. "It keeps you on your toes musically and brings out feelings of camaraderie and community."
Two Bit Stringband, Bluebird Sky, 8 Party Line and Random Canyon Growlers round out this year's line?ups. These artists represent our local /regional community and present blends of traditional music with bluegrass and old time influences. You will be delighted by adventurous instrumentation, sweet harmonies, and savvy improvisational prowess.