When:
July 15, 2011 – July 17, 2011
all-day
2011-07-15T00:00:00-06:00
2011-07-18T00:00:00-06:00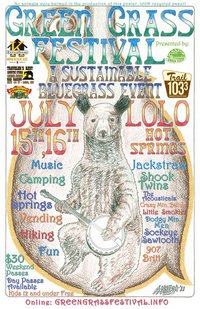 Website
Friday, July 15 at 12:30pm – July 17 at 2:00am
Lolo Hot Springs Resort
created by Lyme Fest
Friday
5:00pm-6:30pm Little Smokies
6:30pm-7:00pm 907 Britt
7:30pm-9:30pm Shook Twins
9:30pm-9:40pm SPEAKER TBA
10:00pm-11:00pm Acousticals
11:00pm-11:30pm Break
11:30pm-12:30am Acousticals
Saturday
1:00pm-2:30pm 907 britt
3:00pm-4:00pm Crazy mtn. Billies
4:00pm-4:10pm SPEAKER -Susan Estep
4:30pm-6:30pm sockeye sawtooth
6:30pm-6:40pm SPEAKER TBA
7:00pm-8:30pm Dodgy Mt Men
8:30pm-8:40pm SPEAKER- Missoula Valley Recycle
9:00pm-10:00pm Jackstraw
10:00-10:30pm Crazy Mountain Billies
10:30pm-11:30pm Jackstraw
11:30-12:30am Free Style Picking
Green Grass Festival is a sustainable Bluegrass Event at the mystical, magical Lolo Hot Springs. A place so nice they named it twice!
This event will feature Jackstraw as well as the Shook Twins, Dodgy Mountain Men, Little Smokies, The Acousticals, Crazy Mountain Billies, and more TBA.
This event will feature on-site camping with cabins available for rent. There will be sustainable and local vendors. Hot Springs are on site as well as a full bar and restaurant.
Weekend ticket price is $30.
Workshop Schedule:
Saturday:
10 am- Tai Chi
11:30 am- TBA
1p- Green Cleaning
2:30p- Wearable Art from Up-cycled/Recycled Materials
4p- Make Your Own Aromatherapy Spray
5:30p- Hoop Workshop
T'ai Chi WIth Workshop, Meditation by Movement w/ Debbee Groves. 10am
This is an Easy Form of T'ai Chi.
Can even be done sitting down.
T'ai Chi energizes the flow of energy thru and around the body.
Can be used for healing yourself. It improves circulation and the immune system.
Come, let's do T'ai Chi together.
Green Cleaning w/ Sara Mich. 1pm
Learn about the dangers found in store bought cleaning products.
Learn how you can save money and the environment by making your own cleaning products.
Have fun making your own multi-purpose soft scrub to take home with you!
Wearable Art from Up-cycled/ Recycled Materials with Jennifer Marie Caplis-McGovern. 2:30pm
Learn the basic knit & pearl stitches of knitting.
Recycled mediums of different natures and up-cycled clothing will be provided.
Have fun creating your own piece of wearable art!
Make Your Own Aromatherapy Spray w/ Anna Rummel Tenenbaum. 4pm
Learn to make aromatherapy sprays.
A natural solution for Bug repellent, sun burn soother, to balance your health
and emotions, or to just simply smell amazing.
Make a custom spray for your specific needs while learning more about
aromatherapy.
Hoop Workshop w/ Sidd Hartha. 5:30pm
New hoopers learn the basics.
Skilled hoopers learn some new tricks!
Learn some great stretching techniques to do with your hoop!
Pointers on making your own hoop out of recycled and up-cycled materials.
More info TBA soon!